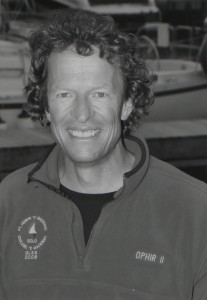 Adrian van den Hoven is a sailing master of the Great Lakes. He is the first Canadian to complete solo racing on all five of the lakes, has won his division in all but one of the lakes, and was our country's first participant in the Super Mac marathon race. For his outstanding efforts, he was awarded the Collingwood Yacht Club's James Russell Memorial Trophy in 2011 for Meritorious Navigation skills. He's proven to be one of the best in his racing division.
Seven years after beginning the sport of sailing, van den Hoven set sail on a racing career in 1997. Three years later, he was racing solo and placed first in the 2003 Collingwood Yacht Club Invitational Race. Three out of the five times that he entered the Georgian Bay Sailing Regatta from 2000 to 2008, he placed first in his division and took overall honours in '00. As part of the crew aboard the 42-foot Benateau 'Smokum Too' out of Thornbury, he worked the foredeck handling sails and spinnaker from 2000 to 2011. In 2006, the boat became the first-ever Canadian entry to win overall honours in the Chicago – Mackinac race.
van den Hoven enjoys working out and training, skis alpine and cross-country during the winter months. He works as a full-time employee with Hydro One as a Hydro One Lines Supervisor in Stayner, Ontario.