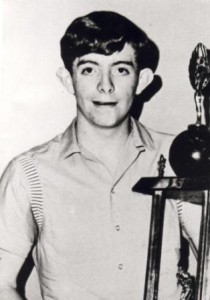 The late John Cooper was tragically killed in a car accident in 1985.  But through his induction to the Hall of Fame, people will remember him for his involvement in the sport of five-pin bowling.
He was a natural, said Randy Osburn, when he was 12 years old he led his league in triple average with a score of 716.
In 1966, John won the zone finals of the senior boys' competition, and than the Ontario finals at the Plantation Bowl in Toronto.  That qualified him for the Canadian Senior Boys' Five Pin Bowling Championships in Vancouver, B.C.
When the competitions were over John returned to Collingwood as Canadian champion.
The next year John and Greg Huntley set a new record in Canadian bowling.  The pair bowled for 50 hours and 38 minutes consecutively.  Between them they rolled 9,877 balls.  John knocked down 43,130 pins including 690 strikes, and Greg knocked down 38,837 pins and 472 strikes during the period.
John was not only an active bowler, he donated of himself the time to become program director of the Collingwood Youth Bowling Council in 1971.  He was also an executive of the Blue Water Five Pin Bowling Association and the Georgian Bay Bowling Association.
Bowling was John's prime sport, but he also enjoyed outdoor sports, golf, fishing and skiing.
John Cooper was inducted into the Collingwood Sports Hall of Fame in 1988.