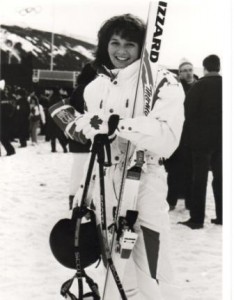 In 1973 at the age of 8, Kellie Casey moved to the Collingwood area with her family and promptly began training for a career in freestyle skiing.
She attended school in Thornbury and Meaford before transferring to Collingwood Collegiate for Grade 12 and 13. At age 12, she decided that her main skiing interest was not freestyle but rather the challenging downhill events. She began competing in the Toronto Ski Club racing programs, her firm goal now was to be and Olympic downhiller.
In 1980 she made the Southern Ontario Division team. She graduated in 1982 to the Ontario team and began racing internationally. Her top finishes in the Pontiac Cup series of 1982 and 1983 earned her a place on the development squad of the national team in 1984. In 1985, she became a member of the Canadian National Ladies Ski Team and began a regular tour of competition on the prestigious World Cup circuit. She competed and trained throughout the world, proudly carrying the name, Collingwood through many countries in Europe and America as well as into numerous major ski centres in North America. Injuries prevented her from a serious run at the 1984 Olympic Games in Sarajevo.In 1985, she placed 4th in Canada in the downhill. In 1986 she won the overall downhill title in the Nor-Am International series. In 1987, she vaulted into the 1st seed in the World Cup Downhill standings with 5th, 8th and two 12th place finishes in Europe just prior to the Olympics. She capped her bid for Olympic selection later that year with a 2nd place finish in the Canadian Championships.
At the Calgary Olympics on February 18, 1988 she was 7th out of the starting gate. On a steep twisting high speed turn at the top of Mt. Allan she lost visual contact with the terrain and crashed heavily into a safety net. The resulting torn  knee ligament ended her quest for and Olympic medal. Following surgery and extensive knee rehabilitation she returned to World Cup competition in 1989, still tanked in the first seed on the World Cup tour.
In 1990, during a downhill training run in Argentina, she sustained a back injury. This latest problem along with a still-imperfect knee was enough to heed the medical advice and to call it a career. Kellie still proudly calls the Collingwood area her home. She skied regularly and got great satisfaction in instructing young racers at Blue Mountain Resort and the Toronto Ski club on weekends. Kellie attended the University of Guelph to study veterinary science.