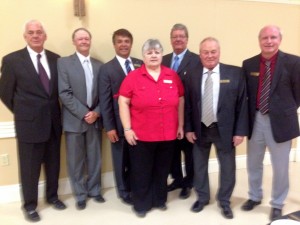 The Collingwood & District Hall of Fame is comprised of a volunteer Board of Governors charged with the task of honouring the outstanding achievement from the area that attained prominence in any field of Sport, or has made a major contribution to the development and advancement of sport in Collingwood and District brought honour to Collingwood.
Since 1974, the Hall of Fame has been led by Michael Jackson (1980-2002) and Mark Rich (2002-Present)
The present members of the Hall of Fame – Board of Governors are shown on the adjacent photo taken prior to the October 2014 Induction Ceremony: Sandy Cunningham, Dave Chandler (Selection Committee), Mark Rich (Chairman), Marie Stephenson, Harold Reid, Jim Malley, Dave Labelle. Absent – Mary Anne Scudder.
The Board of Governors shall appoint a Selection Committee consisting of one representative of the Board of Governors and eight (8) honoured members in the Collingwood Sports Hall of Fame.