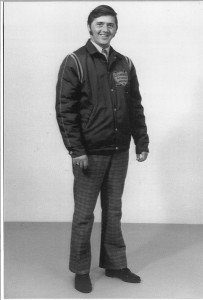 John Stephenson was a familiar sight behind the players' bench and on the ice during the 1960's, 70's and 80's, at the regal Eddie Bush Memorial Arena on Hurontario Street.
For twenty-six winter seasons, Stephenson coached the fundamentals of hockey to Collingwood's youngest players. Thousands of hours of dedication and commitment to his teams and the Collingwood Minor Hockey Association were recognized with a 1986 Special Award of Merit, presented in recognition of his generous donation of time and knowledge and promoting minor hockey for the benefit of kids from Collingwood and surrounding area.
Stephenson's hockey coaching career started in 1960 with a Collingwood local league team. He remained as head coach of local league teams before starting in the 'rep' loop in 1967. He remained in rep hockey until 1986. His teams earned international, provincial, regional, and league championships.
The 1972-73 McKean and MacLean Major Novice 'A's were a powerhouse team with a stellar list of accomplishments and tournament victories. The Novices were North American and Regional Silver Stick Champions, and won the league title, the Peterborough Invitational, Regional Little NHL, the Ontario Minor Hockey Association championship, and the Georgian Bays. They were also provincial Little NHL finalists.
Stephenson was a Level 2-certified coach through the auspices of the Canadian Amateur Hockey Association's National Program. He was a key organizer and founder of Collingwood Minor Hockey's annual Huronia Tournament parade of teams.
During summer months, Stephenson hit the baseball diamond as a Collingwood Baseball manager and Collingwood Slo-Pitch player and manager. He was the 1992 Legionnaire of the Year, receiving the John MacPherson Memorial Award and has worked 30 years at the Collingwood Legion, where he is a Life Member.
On October 22, 2016, the Collingwood Sports Hall of Fame welcomed John Stephenson as an enshrined member of Collingwood's sporting history.