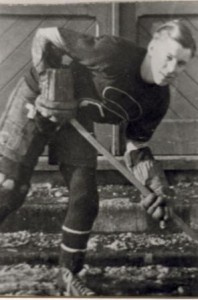 The hockey career of the colourful Dutch Wheeler covers a quarter of a century and his natural ability can be compared with any of the great players spawned in his " hockey hot bed" that is Collingwood.
Learning to skate the day after he took his first walking step, Dutch was starring for the old Central Tigers in the Junior Town League at the age of then, and before he turned fourteen he earned himself a spot on the 1934 Collingwood O.H.A. Junior "A" division. Collingwood's Charlie Sandell also made the team.
Dutch starred with the Biltmores for three years in 1938, 39 and 40.
From Guelph, he went to the Barrie Colts with another Collingwood Boy, Robbie Sandell.
He enlisted with the Canadian Army in 1941 and played out of Newmarket for three years with the Canadian Army team. That team won the interservice championship against the Royal Canadian Navy in 1944. His team mates included Bill Taylor, Bep Guindon, Check Shannon, Bill McComb and Johnny Callaghan.
It was back to Collingwood after the war in 1946. He performed for the Shipbuilders in the O.H.A. Intermediate "A" series for two years and then hopped over to  Midland for one season in 1948.
The new Community Arena was built in 1948 and Dutch couldn't stay away from the old home town with such ice facilities so close to his own back door.
About that time Eddie Bush was finishing off a great professional career and when he came back home as a coach-player, Dutch Wheeler definitely figured in Bush's plans.
It could be said that Eddie built one of Collingwood's greatest Intermediate teams around himself and the Dutchman.
Jack Wheeler was a key cog on a team that won two back to back O.H.A. Intermediate "A" championships in 1951 and 1952 and went to the finals against the Simcoe Gunners in 1953
Dutch and Bush both packed it up as active players the follow year.
Hockey was not his only athletic endeavour. He played a pretty fair softball game and was a member of the Trott's Pros, twice winners of the Collingwood Senior Softball League in the fifties.
His lacrosse career lasted one season when a group tried to revive the game back in 1936.
An eight-team junior group was formed and all went well with the Collingwood team until they met the power packed Orillia club, seven times winners of the Minto Cup.
That ill fated evening in Orillia, Jack Wheeler startled the Orillia fans when he took a pass from Butch Thomson and scored ten seconds after the face-off. Then the Minto Cup holders went to work and scored thirty-two goals. The final score-32-1. That was the end of short lived Georgian Bay Junior Lacrosse League. There hasn't been a lacrosse game played in Collingwood since.
Dutch continued his interest in hockey in an executive position with the Collingwood Senior Club during the late fifties and early sixties. This man truly earned his niche in Collingwood's Sports Hall of Fame.