Paul Shaw was introduced to trap shooting during a conversation in 1981 while goose hunting with friends.  Paul quickly established himself as a force within the sport through pure instinct built from his early years, raised on a farm near Ravenna, when rabbit hunting was considered  recreation.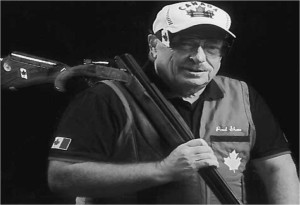 In 1984, he got involved in Olympic style trapshooting.  For the past 30 years, his accomplishments in provincial, national and international competition are staggering.  He has won every championship event at the Ontario Championships incl. singles, handicap, doubles, High- All Around and High Overall.  Paul is a 4x Canadian Champion in Double Trap.
During his career, he has represented Canada as an athlete at the  1996 Atlanta Olympic Games, 4x Pam American Games and 2010 & 2014  Commonwealth Games in both Trap and Double Trap.
In 2014, Paul Shaw is ranked #1 in International Double Trap and #3 in Olympic Trap and involved with the organization of shooting events for the 2015 Pan American games in Toronto.
His trapshooting talents have been recognized in his induction in to the Ontario Provincial Trap Shooting Hall of Fame in 2007.
On Saturday, October 25, 2014,  the Collingwood Sports Hall Fame introduced Paul Shaw as one of its newest members.