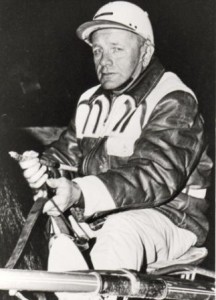 The name of Shorty Lockhart must have top billing when Collingwood harness racing
history is written Horsemen like Paddy Stone, Joe Welch and Paddy Neville were
big names in the sulky game at the turn of the century but Shorty completed dominated the scene for thirty-five years. Born in Honeywood, Shorty farmed in the Osprey district before he took to harness racing seriously in his early twenties. His
first good horse Dorothy Peters, was an instant success and he always likes to
talk about Make Believe, a handsome trotter that won him forty races in a
single season.
As implicated by his nickname, "Shorty" is small of stature but his courage and determination offsets the size handicap. He needs nobody to run interference for him because the little man from the Osprey Hills has always been on his own.
One of his greatest triumphs was a victory with Sonny Creed against top drivers
like Keith Waples, Dell McTavish and Harold McKinley. Three outstanding match
races stand out in his memory; Two against his old rival, Honourable Earl Rowe
at Greenwood with Make Believe and at Grand Valley with Dorothy Peters. His match race with Sonny Creed against Dr. Morrish's – Lochlinvar King was staged before the largest crowed ever to witness a harness race at London Raceway.
Shorty has trained and owned more than one hundred trotters in his days. His ace
pacers, Sonny Creed and Single Chips have carried him over the mile at 2.03 at
one time ore another and A.W. Chips and McCarr Hanover have stepped it in 2.04
with Shorty in the sulky.
He has fine memories in the racing exploits of such fine horses as Dorothy Peters,
Make Believe, Dr. Fleet, Laurentide, Prince Demon, True Spencer, Frisco Van R.,
Alex Hardy and Collingwood Boy.
Clarence "Shorty" Lockhart has left his mark on the big tracks like the Blue Bonnett and Richelieu in Quebec, Greenwood, Mohawk, Garden City, the old Thorncliffe and Dufferin in Ontario and Batavia and Hamburg across the border.
He just had to be No.1 in the harness racing section of Collingwood's Sports Hall of Fame.