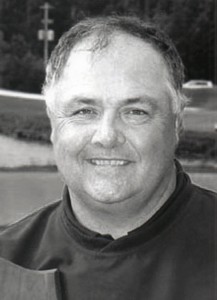 In his competitive golfing career, Mike has atop the leader board for more than 50 golf championships spanning the local, provincial, national and international landscape. Mike has played in national events in all ten Canadian provinces at least once.
Jackson is currently ranked in the upper tier out of more than 700 senior golfers by Golf Week Magazine in the United States.  And as recently as May 2012, he
won the Ontario Senior Men's "Champion of Champions" title by two strokes in Peterborough.
His athletic roots run deep in Collingwood.  He is the son of Ken "Jeep"' Jackson, a member of the Sports Hall of Fame.  Michael, who played local Junior hockey as a right-winger, tried out for the Guelph CMC's in 1972. In 1973, he attended the training camp for the Toronto Maple Leafs arranged through local scout Donald 'Nip' Spooner.  Mike also played a couple of years of Senior "B" Hockey for the Durham Husky's winning a provincial championship.
An excellent right-handed golfer as a youth, Jackson was Ontario Best Ball Champion with Hugh Fraser in 1976.  As an amateur, he competed numerous times at the provincial level.  He took part in the 1985 British Amateur at Royal Dornoch in Scotland and was 27th out of 288 golfers before match play.  His medal score was ahead of such greats as Duffy Waldorf, Jose Maria Olazabal and Colin Montgomerie.  He was the 2003 mid-amateur provincial champion (played at Mad River in Stayner) and won the 2010 Ontario Senior Men's Amateur crown at the Ambassador Golf Club in Windsor.
Locally, Jackson has been the Blue Mountain Golf and Country Club champion an
unprecedented 15 times, the club's Senior champ twice and captured the Scenic
Caves Invitational on seven occasions.  As a six-time champion with the Midland Golf and Country Club, he holds the course record of 63, shot in the final round of the club championship in 1979.  He's a four-time winner of both the Georgian Bay Club championship and Senior Club championship, along with being Match Play champion for three years.
Jackson, a committed community citizen, owns the GM dealership in Collingwood.  A recipient of Rotary's Paul Harris Fellowship Award, he has been the E-3 Community Living golf tournament chair for many years.  He was a board member for the Collingwood Sports Hall of Fame committee from 1988 to 2002.  Jackson has been on the board of the Canadian Auto Institute (CAI) at Georgian College for several years, and was its chairman of the board from 2005 to 2007.
Jackson is appreciative of the support of his family – wife Doreen, son Ryan and
daughter Courtney – which has allowed him to venture far and wide in his chosen
sport.  He credits fellow Sports Hall of Famers Don Cook and Brian Jeffery for giving him the inspiration to compete in golf.
On October 20, 2012, the Collingwood Sports Hall of Fame welcomed Mike Jackson as an enshrined 'Athlete' from our sporting community.