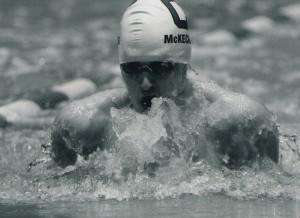 It didn't take McKechnie long to set new benchmarks in swimming as a young member of the Collingwood Clippers. He started swimming at age 9. He holds 60 short-course and long-course club records and five Huronia Regional records. In 1996, he was ranked the nation's third-fastest 10-year-old swimmer and clocked strong results at the provincials, where he was champion in the 50 and 100 breaststroke.
Ivy League champion swimmer David McKechnie is recognized as one of Cornell University's all-time best performers, his swimming accomplishments rank among the best results in Ivy League history. He achieved the highest honour a college swimmer can attain as he qualified for the 2007 NCAA Division 1 championship in Minnesota. He placed 24th in the 100 breaststroke. It was a landmark year for the Cornell team, which claimed its first unbeaten dual-meet season in 60 years (10-0) and captured the regular season Ivy League title for the first time in school history. Cornell defeated Princeton and Harvard for the first time in over 20 years. From 2005 to 2007, he was the three-time Ivy League winner in the 100 breaststroke and twice won the league championship in the 200 breaststroke.
He was a member of four championship-winning relays for Cornell at Ivy competition in 2007. He was Cornell's MVP in 2004-05 and 2006-07 and won the Spirit Award in 2004.
At the 2004 Canadian Olympic trials, McKechnie placed 12th in the 100 and 200 breaststroke. He won the 50 breaststroke championship at the Bell Grand Prix National Meet in Etobicoke in 2006, 3/10th of a second off the national record set by Morgan Knabe. He beat three Canadian Olympians in the process (Mike Brown, Scott Dickens, Matt Huang).
During his years at Cameron Street Public School and Collingwood Collegiate, he was involved in volleyball, basketball, cross-country running, and curling. His 1999-2000 junior volleyball team won the Georgian Bay championship. He also participated in Kids of Steel and Collingwood triathlons.
Twenty-six-year-old McKechnie is employed with Deutsche Bank and lives in Singapore. He says he owes a huge thank you to his local coaches, including Barb Richmire, Cheryl Blay and Todd Funston with the Collingwood Clippers.